Water Heaters
We offer equipment sales, plus top-quality installation, repairs and more!
There's nothing like a hot shower on a cold day, or after a day's work, or to unwind before bed.
But, when the water heater takes forever to work, or if it can't handle your family's hot water needs, then hot showers are more of a challenge—along with other things, like running the dishwasher or doing laundry.
If that sounds like the situation in your home, it may be time to upgrade your water heating system. Admiral Propane can help with that!
We offer top-of-the-line propane tankless water heaters from Rinnai, a leading manufacturer, with products made right here in the USA. There are so many advantages to going tankless!
The biggest advantage is endless hot water. With a tankless water heater you'll get your hot water when you need it. And, since there's no tank, you never have to worry about the hot water running out.
Your hot water will be delivered at a consistent and safe temperature — no surprise surges in temperature because other appliances are running. Digital temperature controls mean safety and comfort.
Save on water heating costs today!
You also won't be wasting energy and money by heating a tank full of water when you don't need it. A traditional tank model will still be 'running' even when not heating your water; a detriment to your energy use, and your wallet! In comparison, a propane tankless water heater can use up to 40% less energy than a conventional tank-style water heating system by working only when you need it to.
Propane tankless water heaters last, on average, for 20 years. Rinnai's tankless water heaters come with a commercial-grade heat exchanger that has an industry-leading 12-year warranty. Some of Rinnai's tankless water heaters can even be monitored remotely with Wi-Fi!
You'll also have peace of mind, as tankless water heaters have a much lower risk of leaks that damage your home than tank-style water heaters do.
Tankless water heaters are also a lot smaller than tank-style water heaters. That means they can fit in smaller spaces, freeing up room in your home. Using a propane tankless water heater means lower greenhouse gas emissions as well.
Not only can you save energy, but you can get money back when installing a Rinnai tankless water heater. Talk with Admiral Propane's professionals about qualifying for rebates and tax credits for installing an energy-saving propane tankless water heater.
Save big with available TNPGA rebates!
The Tennessee Propane Gas Association offers a $250 rebate when you add or replace a propane tankless water heaters. Find out more from Admiral Propane.
Learn more
You can count on Admiral Propane for water heater installation, water heater repair and water heater maintenance. Contact us today and become an Admiral Propane customer!
---
Save up to $100 with Rinnai!
Rinnai, a leading manufacturer of propane-fired products, is currently offering a special promotion: up to $100 off the purchase of qualifying Rinnai tankless water heaters, heaters and boilers. With Rinnai's superior engineering, smart design and unmatched quality, you'll enjoy an endless supply of hot water—plus significant energy savings, all year long. This offer is valid while funds last—so don't miss out! Contact us for more information today.*
To claim your rebate online or by mail, click here.
$100 REBATE AVAILABLE ON:
Rinnai Tankless Water Heaters (HE+, SE, and SE+Series Only)
Rinnai EnergySaver® Direct Vent Wall Furnaces
Rinnai Condensing Boilers
Rinnai Commercial Water Heaters
Rinnai Hydronic Air Handlers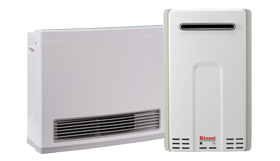 $50 REBATE AVAILABLE ON:
Rinnai Tankless Water Heaters (HE Series)
Rinnai Vent-Free Fan Convectors