Propane Delivery in Johnson City, TN
Admiral Propane can't be beat for reliable, courteous propane service!
Admiral Propane has been serving Johnson City area homes and businesses for more than 25 years. We're independent and locally owned, so we can provide dependable, prompt service that treats you like the neighbor you are, not an account number.
Admiral Propane
2002 Highway 75
Blountville, TN 37617
423-212-1057
Hours
Monday: 8 a.m. – 5 p.m.
Tuesday: 8 a.m. – 5 p.m.
Wednesday: 8 a.m. – 5 p.m.
Thursday: 8 a.m. – 5 p.m.
Friday: 8 a.m. – 5 p.m.
Saturday: Closed
Sunday: Closed
Admiral Propane offers comprehensive propane services…right nearby!
Propane delivery. Our popular Automatic Fill delivery option takes the work and worry about managing your propane supply off your hands. Our computers look at your prior propane usage and current weather conditions to accurately predict when you'll need more propane, and we make the delivery before you run low. Want even more precision? We offer wireless propane tank monitoring that keeps us informed 24 hours a day about exactly how much propane is in your tank. When it reaches a set level, we're notified and schedule a delivery.
Propane tanks. We sell and install both aboveground and underground propane tanks in sizes up to 1,000 gallons. We're known for our attractive tan tanks, which blend in with your yard and landscaping.
Propane cylinder fill-ups. Come to our Blountville and Greeneville offices during regular business hours for cylinder refills of up to 100 pounds. We also recertify cylinders.
Propane appliances. Propane's versatility makes it an outstanding energy source in your home. We sell, install and service propane fireplace products, heaters and water heaters.
Commercial propane services. We provide bulk propane delivery, propane tanks up to 4,000 gallons, and propane forklift cylinder-exchange services to farms and all kinds of businesses.
Your Johnson City neighbors love Admiral Propane!
"The install team did a fantastic job showing us all the safety guidelines and how to use the remote control to light our fireplace. We highly recommend them and Admiral Propane."
– Richard K.
"Just happened to see their pink refill truck go by our home. Had been thinking about a diesel generator but thought it might be good to check out propane. Boy, am I glad I did! Chris and team were great to work with. Installed and operational very quickly and professionally."
– Duke O.
Want to see what more of our customers have to say? Read more at the link here!
Johnson City, TN: Natural beauty and a great quality of life.
Nestled in the foothills of the Appalachian Mountains, Johnson City combines small-city charm, abundant outdoor recreation opportunities and a thriving cultural scene.
Whether you like hiking, taking in a concert, hitting a farmer's market, watching a Johnson City Doughboys baseball game, or heading out on one of the Southern Dozen motorcycle rides, there's always something to enjoy here.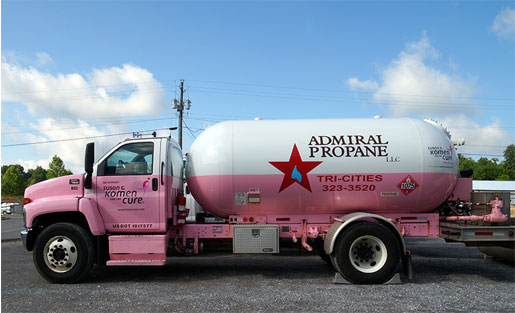 Notable natives and residents of Johnson City include:
Steve Spurrier, who won the 1966 Heisman Trophy as quarterback for the University of Florida. After a decade in the NFL, he went into coaching and eventually returned to his alma mater as head coach, where he brought the Gators to the 1996 National Championship. He was later the head coach of the Washington Redskins and the University of South Carolina Gamecocks. He is in the College Football Hall of Fame.
Matthew Czuchry, the actor best known for his roles as Logan Huntzberger on Gilmore Girls, Cary Agos on The Good Wife and Conrad Hawkins on The Resident.
David Cole, a music producer who worked with several artists, including Aretha Franklin and Mariah Carey. He also co-founded the hip-hop group C+C Music Factory.
Catherine Marshall, the author of the classic Christian novel Christy, which went on to become a television series starring Kellie Martin in the 1990s.
Eureka O'Hara, drag queen, who competed in RuPaul's Drag Race and currently stars in the HBO series We're Here.
Become an Admiral Propane customer and get the personal, responsive propane service you deserve!