Propane Tanks & Installation
Admiral Propane is home of the tan tanks!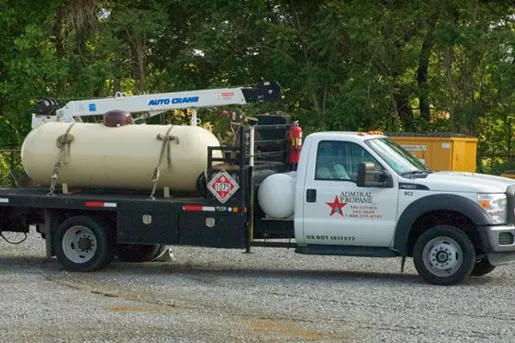 Ready to improve your East Tennessee, southern Virginia or northwestern North Carolina home or business with propane?
Admiral Propane is your one-stop shop for the job. Not only do we deliver propane, but we do propane tank installation and have options that fit your needs and your budget.
We carry residential and commercial propane tanks, both aboveground and underground models. Our aboveground tanks range in size from 120 to 1,000 gallons. Our underground tanks are between 250 and 1,000 gallons in capacity.
You can either lease or buy your tank, with the cost varying depending on the size and installation of the tank. Most customers prefer leasing, as their tanks will be maintained and repaired by Admiral Propane's trained service technicians.
Admiral Propane has complete installation services, from delivering and setting up the tank to connecting it to your appliance. We also do all the needed and required inspections to ensure that everything is safely installed and that you are completely satisfied.
We have a full range of propane appliances, including fireplaces, vented and vent-free heaters, hearth supplies and tankless water heaters. Once you have your Admiral Propane tan tank, make us your go-to supplier for when you need a propane tank refill. Our Automatic Fill fuel delivery makes things easy for you, because we track your propane usage and set up a delivery before you run out. With Will Call delivery, your propane is delivered when it fits your schedule. We also offer payment options, like our PreBuy and Easy Payment plans.
Why tan tanks?
We're known as "the home of the tan tanks," because our aboveground propane tanks are all painted an attractive shade of tan that will blend into the surroundings much nicer than a stark white or silver tank.
Ready for a tan tank of your own?
It's easy to become an Admiral Propane customer, we make it easy to switch. And we offer incentives for you to make the change. Contact us to find out more about becoming an Admiral Propane customer and getting a tan tank (or an underground tank) for yourself!