How Does a Direct-vent Fireplace Work?
These Fireplaces Deliver Warmth and Style!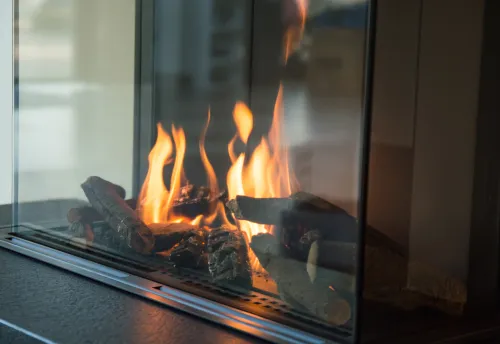 Some people feel that a hearth makes a house a home. But if your house doesn't have a chimney, it doesn't mean you can't have the warmth and charm that a fireplace brings. The answer is a direct vent gas fireplace. What exactly is a direct vent gas fireplace?
A direct vent gas fireplace is a glassed-in fireplace that uses a dual-chambered piping system to simultaneously draw in air to feed the fire while expelling exhaust fumes to the outside.
All that's needed is access to propane gas—and an expert in gas fireplace installation. Admiral Propane has you covered on both with reliable delivery service and a great selection backed up by a team of industry professionals.
What are the Benefits of Direct Vent Gas Fireplaces?
There's a lot to like about direct-vent propane fireplaces.
For starters, they are versatile. The space requirements between the fireplace and wallboard or wood are minimal, which means they can be installed almost anywhere with access to the exterior wall. That means you can incorporate the ambiance and warmth into just about any room, including living rooms and family rooms…but also kitchens and dining rooms. Create your dream master suite or a spa-like bathroom escape, just by adding a gas fireplace. You can also convert traditional fireplaces to a maintenance-free propane hearth with a gas log insert.
They also provide efficient supplemental heat without the mess, smoke, and ash of a wood-burning fireplace. At the same time, they are much more attractive than a space heater by delivering cozy charm as well as real warmth. In fact, direct-vent fireplaces are better at heating a room than a traditional fireplace, which lets a lot of heat escape right up the chimney.
And a direct vent fireplace is much safer. No more playing with matches and waiting for tricky kindling to catch—you can turn on and adjust the flame with a wall switch or even a remote control. When you're done, simply turn it off instead of waiting for embers to burn out.
Additionally, the glassed-in design that makes them heat more efficiently and effectively prevents burns, while the design of the venting system pulls fumes safely outside.
Direct Vent Fireplaces Offer a Range of Style Options
There is a wide range of design options available. Go with the traditional look of a mantle and hearth, including realistic logs, or choose a more contemporary style. Express your design vision with a long, linear model with stones or glass instead of logs, or turn an odd corner into a striking focal point.
Call Admiral Propane Today For This Easy Upgrade!
Whether you're looking to make upgrades for yourself or to add value for a potential sale of your Tri-Cities home, adding a propane-fueled fireplace or stove is an easy and affordable option.
Let the team at Admiral show you how easy and affordable installing a gas fireplace can be. We service and install everything we sell, and we stand by our work. Contact us for more information today, and kick back by your own fireplace before the holidays.