Should You Consider Installing a Gas Log Set In Your Existing Wood Fireplace This Season?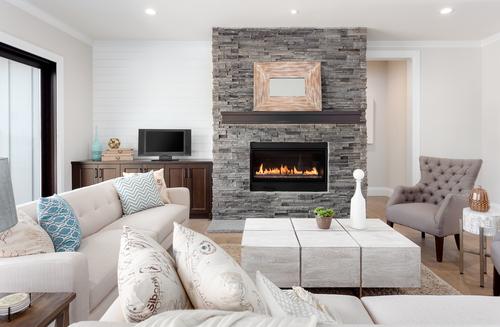 The winters in the greater Tennessee region can be breathtaking in more ways than one. And while the snow-covered mountain caps on the Great Smokey Mountains are beautiful, the temperature in the surrounding communities can quickly drop to sub-zero levels within a matter of hours during a cold snap. Having a fireplace in your home not only gives you a way to escape the cold but provides a great space to snuggle up with your favorite book, person, or pet.
We hear—quite commonly—that people assume their traditional wood fireplaces can get the job done, but this isn't always the case. In fact, there are several benefits that come with having a gas log fireplace as opposed to your existing wood-burning setup. Let's look at some of the direct comparisons:
Propane Gas Logs are Easier to Use
Everyone loves the idea of a traditional wood fireplace—that is, until it comes time to actually use it. The process of collecting firewood and kindling to start the fire can be time consuming, and it can take even longer to get the fire going! Comparatively, with most gas log fireplaces, it takes a matter of seconds to start your fire. Simply press a button and your fire is burning brightly.
Not to mention you don't have to get up to throw another log on the fire to keep it going. Gas log fireplaces will continue to produce a warm, beautiful flame up until you turn them off.
Propane Gas Logs Require Less Maintenance and Cleanup
Anyone who owns a wood burning fireplace knows what a pain it can be to clean them after its last use—and additionally perform routine maintenance. One of the biggest benefits with gas log fireplaces is that there is no afterburn clean up required. Since you aren't burning actual logs, you won't have to worry about cleaning the ashes, or look online or in the phonebook for a professional chimney cleaning service.
We will point out however that it's recommended you have annual maintenance performed on your gas log fireplace—which can be taken care of in a quick, in-and-out visit from our propane professionals. In addition to any maintenance, our team of experts can also help troubleshoot or fix existing issues with your fireplace. Just make sure you are located within the Admiral Propane service area!
Propane Gas Logs Pose Less Safety Risks
When we think about a warm, crackling fireplace we don't often think about the safety risks they might pose. With traditional wood fireplaces there is a higher risk of a fire spreading throughout your home. It also poses more of a risk to children or animals who may accidentally find a way past the fire screen you put in place.
With gas logs, the fire is contained and the risk of a fire spreading to other parts of your home is much less likely to happen. Also, most gas fireplaces have a protective barrier to prevent anyone from getting too close to the flames.
Call Admiral Propane for Your Propane Gas Fireplace Installation Today!
There's nothing quite like snuggling down in front of a warm fire. We make it easy for that to happen with our full array of products from top manufacturers like Buck Stove, White Mountain Hearth, Real Fyre, & Empire Comfort. No more chopping wood, no more kindling, no more ashes, no more soot, and no more stress!
Our team of experts are here to help you pick the perfect gas logs for your home—and your budget. Contact us today to discuss your options and find the perfect fireplace for to keep you warm and cozy for the winter season ahead!